<![if !vml]><![endif]>

Citation for the Presentation of the ICPE Medal to

Professor Geroge Marx

Eötvös University, Hungary

Budapest, Hungary

August 2007

<![if !vml]><![endif]>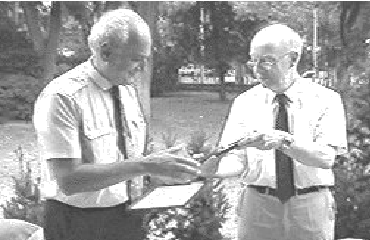 George Marx receiving the IUPAP-ICPE Medal from ICPE Chairman Paul Black (Photo by E. Leonard Jossem)
Dr. Marx received his Ph.D. in Physics from Eötvös University, Hungary, in 1950 and was awarded the Kossuth Prize in Hungary for his work in theoretical elementary particle physics. From 1970 to 1992 he served as Chairman of the Department of Atomic Physics at Eötvös University. He has been active in Hungary in promoting physics education in the high schools and colleges of that country, and in Hungary's participation in the International Physics Olympiads. He is a member of the Hungarian Academy of Sciences, the International Academy of Astronautics, the Academia Europa, and the New York Academy of Sciences.
He is an Honorary Professor of the University of Vienna, and has been a visiting professor at other universities including Stanford, Union College, Mexico City, Lahore, Kyoto, and Nanjing. Among the honors he has received are the Comenius gold medal, Comenius University, Bratislava 1996, and the medal of Simon Bolivar University, Caracas, 1996.
He is the author or editor of many books and conference proceedings in physics education, among which are: Momentum in the School (1976), Quantum Mechanics in the School (1981), Entropy in the School (1983), Microscience: The Use of Microcomputers in Science Education (with Paul Szucs, 1985), Teaching Non-linear Phenomena at Schools and Universities (1987), Energy Alternatives/Risk Education (1989), Educating for an Unknown Future (1991) and Environmental Issues - Rio Follow-Up (1994). Some of his text books have also been published in Czech, Chinese, English, Finnish, Russian and Slovakian.
He has been active in the organizing and teaching Computer Workshops in Africa under the auspices of the ICTP (Trieste).
Geroge Marx has served the international physics education community in many ways: As a member of ICPE in 1975-1978 and in 1978-1981, as Vice-Chair in 1987-1990, and again in 1990-1993, and as Editor of the ICPE Newsletter, 1988-1994. He also served as a Vice-president of IUPAP, 1993-1996. He has had a long involvement with GIREP, serving as its President in 1992-1995.
George Marx is well known in countries around the world-in Europe, the Americas, China, Japan, India, and other Asian and African countries-for his stimulating lectures and friendly assistance and encouragement.
Throughout his long career, Professor Marx has devoted himself to advancing the cause of science and physics education. Both in his research work in physics and in his work as a teacher, an author, and an editor he has made seminal contributions to the literature. He has catalyzed the organiztion of numerous international conferences and projects in physics education. Always, and in all ways, George Marx has been a trusted advisor and a highly valued friend of physics teachers the world around, and through his continuing and tireless efforts on their behalf has earned their deepest respect, affection and gratitude.