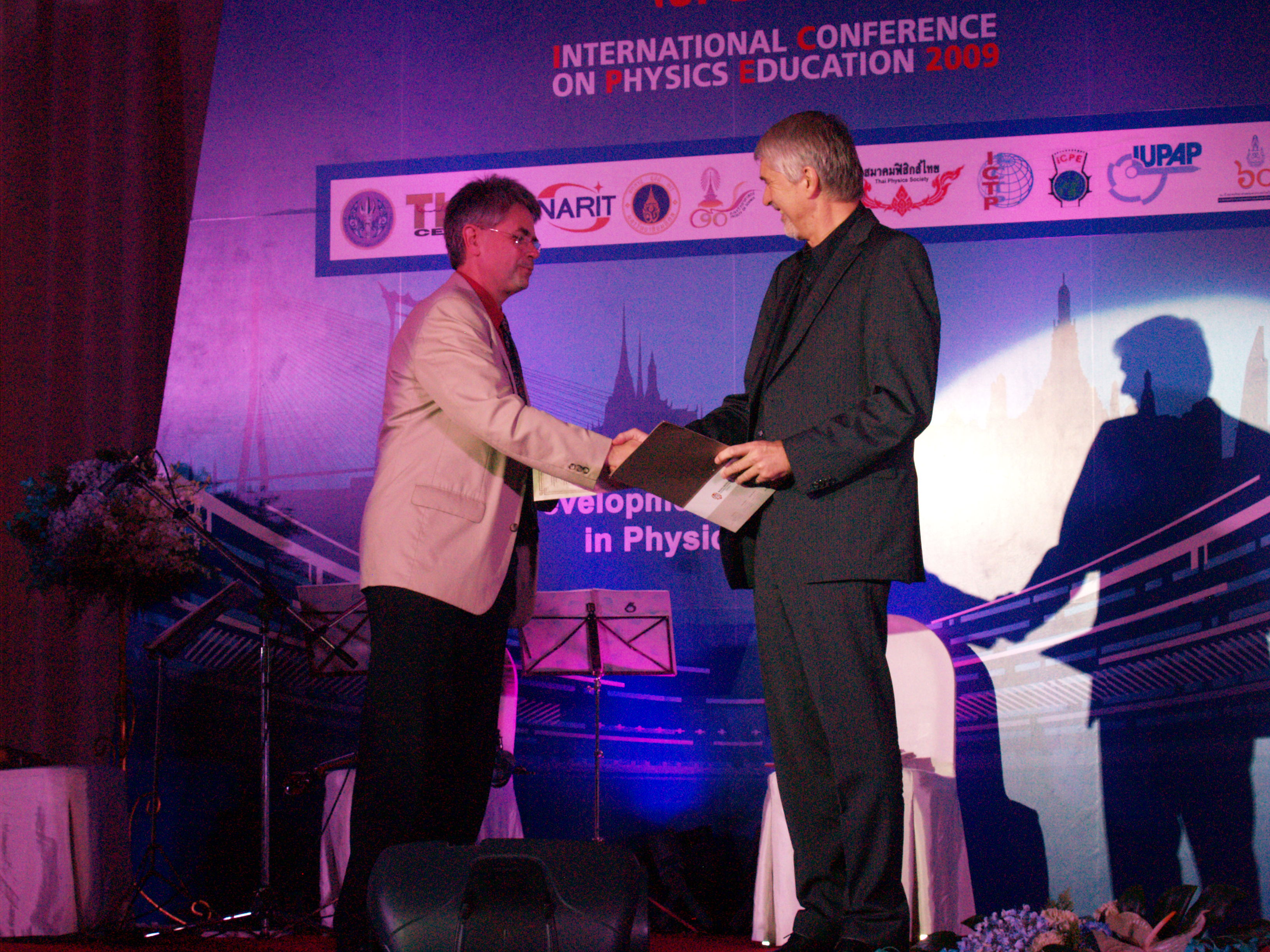 Ton Ellermeijer, Professor at the University of Amsterdam and Director of the AMSTEL Institute, is awarded the ICPE Medal in recognition of his significant contributions to the teaching and learning of physics. His distinguished career has included many research and development activities which have had international impact on scientists, educators and the teaching of science.
Dr Ellermeijer completed
a Masters in Nuclear Physics from the University of Amsterdam.

After a few years as a high school teacher he entered the Free University of Amsterdam and completed a doctorate in Physics Education.

He now holds a chair of the Dutch Physical Society in Physics Education at the Faculty of Science of the University of Amsterdam and is Director of the
A
msterdam
M
athematics,
S
cience &
T
echnology
E
ducation
L
aboratory, know widely as the
AMSTEL Institute.
Under Dr. Ellermeijerís direction the AMSTEL Institute was established 1999.

It is an Institute within the Faculty of Science and is dedicated to Mathematics and Science Education. Through a diversity of activities, the Institute focuses on improving Science Education at all levels of education.

Today, approximately 40 staff members conduct research and development at the Institute. The influence of this work in science education has been worldwide.
Dr.

Ellermeijer has initiated many innovations in physics education. He was a pioneer in the introduction of instruction technology in the teaching and learning of physics. In 1987 he founded the
C
entre for
M
icrocomputer
A
pplications (
CMA)
- CMA has been involved in many international projects to support the introduction of Information Technology in Education in both developed and developing countries.
Dr. Ellermeijer has been recognized for his
efforts by receiving prestigious awards and positions.
In 1999 he received the Prof Minnaert Award for his contributions to Physics Education in The Netherland
.

Today he is President
of GIREP, the international organization for Research in Physics Education
For his pioneering work in developing and disseminating student-centered physics education and for his continuing efforts to promote quality physics learning throughout the world, the International Commission on Physics Education is pleased to present its 2009 Medal to Professor
Anton L. (Ton) Ellermeijer.
October 2009
Prof. Pratiha Jolly
Chairman of ICPE